We wanted to give you all the details for Muscle Burns Fat in one easy to read post complete with images, videos, and detailed explanations! Muscle Burns Fat is the incredibly unique workout coming from Beachbody Super Trainer Megan Davies! Think weight training, mixed with cardio, a unique twist on the jump rope, incredible jamming music, and the ultimate in nutrition! Ladies and gentlemen, we give you, Muscle Burns Fat! And welcome to the Ultimate Muscle Burns Fat Workout Review!
Muscle Burns Fat Review and Details
When I first met Megan Davies a few years ago, I just knew she was destined for greatness because of her incredible passion for fitness, her amazing charisma, her ingenuity! Muscle Burns Fat, or #MBF and #MBFA is proof!
With the brand new BOD Ropes, Megan will have you burning the fat in record time like never before! BOD Ropes take your jump rope game to another level by adding weights to each end, and cutting the rope off to make two short ropes on each hand! Genius! Now you don't have to worry about tripping on the rope so you can go as fast as possible! What's even better? The added weights on each end will actually give you a better workout than ever before!
But Muscle Burns Fat isn't just about the BOD Ropes. Every single workout was designed with some of the best workout music I have ever experienced! And to top it all off, you focus on building lean, strong muscle! Building muscle is the true secret not just to losing weight quickly, but also the secret to keeping the weight off! The more muscle you have, the faster your body will be able to burn fat, use calories you feed it, and ultimately look your best!
What Equipment is Needed for Muscle Burns Fat
Muscle Burns Fat is easy to get ready for. With just a set of Light, Medium, Heavy Dumbells, and the included BOD Rope, you are ready to go! Ok well, you probably should also have a towel and a bottle of water, because you will be sweating bullets!
But seriously, this is the magic of Muscle Burns Fat, and Muscle Burns Fat Advanced. All you really need is yourself and a few simple weights and you are good to go and ready to get in the best shape of your life in just 6 weeks!
What is the BOD Rope
The Beachbody on Demand Rope or BOD Rope will help you take your Muscle Burns Fat cardio workouts to another level. This allows you to go as fast as you possibly can, while not having to worry about tripping or falling over yourself!
You also don't need to have any clearance to use the BOD Ropes. A traditional jump rope would require a ton of room to be clear around you to do the exercises. Not with the BOD Rope!
What Makes Muscle Burns Fat So Unique
People often ask what makes a program special. Without a doubt, what makes Muscle Burns Fat different than any other Beachbody workout is the mixture of high intensity interval training with functional movements, while incorporating weights, your own body weight, and BOD Ropes into the mix.
As if that wasn't already enough, Muscle Burns Fat also has some of the most high energy, fast paced, music you will ever hear in a workout program. You can tell they really spent the time making sure every aspect of the workout was looked at, including the musical components.
Lastly Megan Davies is just a gem! Her high energy, fun loving personality shines through in this latest workout developed by Beachbody.
What Is the Muscle Burns Fat Meal Plan
This was an incredible home-run for Beachbody. Instead of creating a new meal plan, or directing you to other plans that you may not have access to, Beachbody is including two, yes two, complete meal programs with Muscle Burns Fat. And not just any nutrition programs. We are talking two of their most popular nutrition programs ever released: 2B Mindset, and Ultimate Portion Fix.
2B Mindset is the program you will want to do should you be someone that is looking to learn all the tricks and strategies to not only lose the weight, but to also keep it off long term! Learn how to recognize false hunger, what you should eat first before anything else, how to order at a restaurant, and so much more! This program alone sells for $89, and you get it included with your purchase of Muscle Burns Fat!
Ultimate Portion Fix is for those of you that want to learn how to eat the right portions, and the right combination of foods that will help you feel fuller, stronger, and leaner! Developed by Autumn Calabrese, Ultimate Portion Fix will help you learn exactly when to eat, and what to eat, in the simplest form possible. Complete with detailed meal plans and recipes, you won't believe what you can eat, and how much you can eat, when you finally master eating the right combination of foods.
What Results Can I Expect From Muscle Burns Fat
The Results are in for Muscle Burns Fat, and they truly speak for themselves, here are just a select few from the test group.
Brittany lost 5 pounds, but she lost 15 inches in just 6 weeks! She has regained her confidence!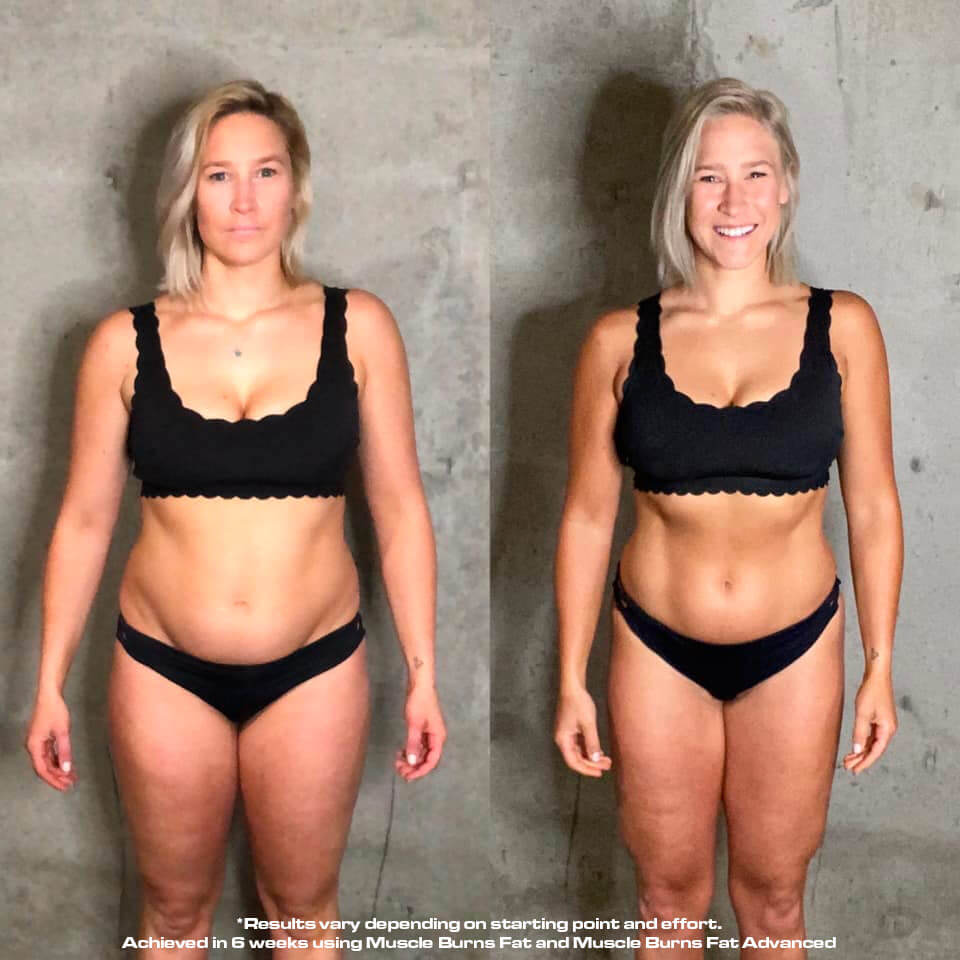 Leah lost 8 pounds and 10.5 inches with Muscle Burns Fat and Muscle Burns Fat Advanced. But more importantly, the confidence and the self-love she has gained has been invaluable.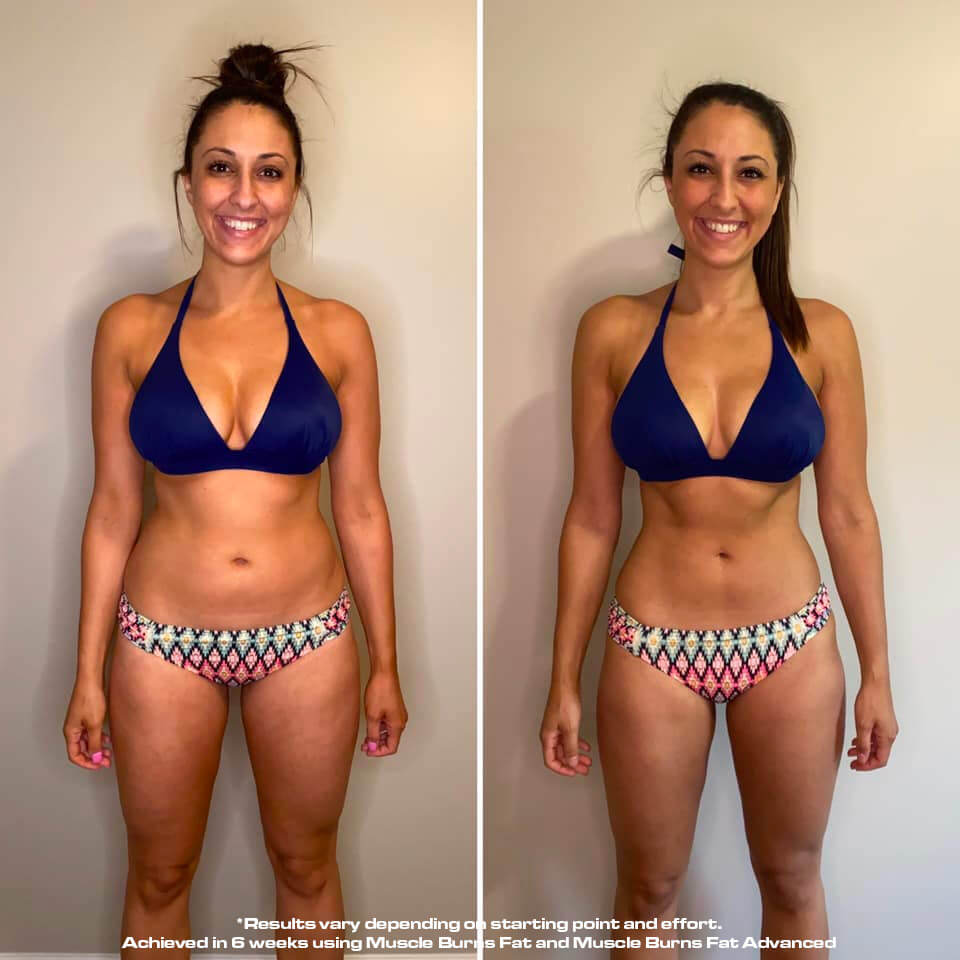 What Workouts Are Included With Muscle Burns Fat?
With Muscle Burns Fat you get Two 3 week workout programs, each with 21 workouts! For a total 42 workouts that Megan Davies filmed in real-time for you to feel the excitement and action of being live with her during a workout! The Incredible music beats tell you how hard to go, or when to slow down, and the addition of a modifier helps those that need lower impact, but still want to get a great burn, complete Muscle Burns Fat and Muscle Burns Fat Advanced!
You also get 4 "On The Go" workouts you can do with 0 equipment necessary. These were designed for you to be able to workout no matter where you are! In a hotel, at home, or even if there is no place to barely move, you can do these workouts just using your smartphone and your body!
Short on time? Muscle Burns fat also includes 4 bonus workouts that are just 10 minutes! These are great if you know you have to head out and will be tempted to eat treats or calories you normally wouldn't! Simply get a workout in before you get ready, all it takes is 10 minutes and you are don!
Another favourite feature in many of the workouts is AMRAP (As Many Rounds As Possible). Every week you will be tested to do as many rounds as possible of a specific set of exercises! This will allow you to get your workout in, while at the same time testing you and showing you physically the results you are getting! Nothing is more motivating than knowing you are making physical progress towards your goals!
Is There Early Access To Muscle Burns Fat?
You bet! Many of our VIP clients have already purchased Muscle Burns Fat! Should you want to order and you are already a VIP customer, simply use the links below. However, if you are not a VIP customer, please fill out the form following the link, and we will help you get setup as a VIP customer.
Muscle Burns Fat Deluxe Shakeology Performance Completion Pack

This is by far the best deal Beachbody has EVER put together. Because it includes 2B Mindset and Ultimate Portion Fix, Shakeology, Performance Recovery, and Energize!! Not to mention of course you get Muscle Burns Fat, and Muscle Burns Fat Advanced. You save $300! That is CRAZY!!!
Again, you can only get this deal if you are already a VIP customer with us, so if the link does not work, then you must scroll down, fill in the form and we will send you the details on becoming on VIP customer.
Order Here: https://miguel.vip/mbfshakeodeluxe
Muscle Burns Fat Accessories Bundle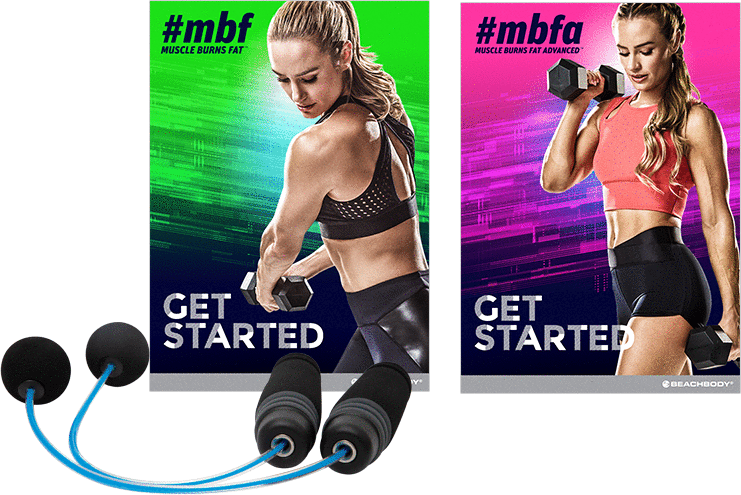 The Muscle Burns Fat Accessories Bundle is the best deal if you do not want to get anything but Muscle Burns fat but remember, for just a little more, you can get over $350 more worth of products with DELUXE kit.
Bundle Only Order: https://miguel.vip/mbfdigital (Remember this link only works if you are a VIP client)
I Want Muscle Burns Fat! How Do I Order It? And How Do I Try The Sample Workout for Muscle Burns Fat?
If you are already a VIP customer or a Coach on our team, you can already order with the links above! However, if you are not, the links will not work. To become a VIP customer is very easy, feel free to enter the information below and we can get you set up! Once you fill in your information, you will also be taken to a page where you can try out the Sample Workout for Muscle Burns Fat!