Autumn Calabrese has been hard at work on the hottest and most explosive workout you have done, 21 Day Fix Extreme. You can be the first to not only get a copy of 21 Day Fix Extreme, but also join the largest 21 Day Fix Extreme support group on Facebook! As an Elite Beachbody Coach, I've had the chance of trying 21 Day Fix Extreme, and I've had the chance to workout with Autumn on stage in September when she did her first live workout of 21 Day Fix Extreme! This is my 21 Day Fix Extreme review, so you can decide if it's something you want to do!
How Can I Order 21 Day Fix Extreme?
If you want to be the first to get a copy of 21 Day Fix Extreme, make sure you put your name and email address in the form below. It takes two minutes, and I will make you a part of my exclusive 21 Day Fix Extreme VIP Challenge Group. Not only will you be the first to get a copy of Extreme, but you will also have the most incredible support DAILY to ensure you get maximum results with 21 Day Fix Extreme.
Who is 21 Day Fix Extreme For?

21 Day Fix Extreme is for people that want to see extreme results, in just 21 Days. It is not for everyone! It is for people that want to take their bodies to the next level. Autumn Calabrese has taken everything she has learned competing in National Bikini competitions, and packed it into the ultimate 21 Day workout program that will get you results faster than any program or gym workout you could ever do.
What is included in 21 Day Fix Extreme?
21 Day Fix extreme comes with everything you need to look dynamite at the beach. It will take hard work, but if you want to get in the best shape of your life, Beachbody is going to send you all the tools you need to look incredible.
21 Day Countdown to Competition Menu
21 Day Extreme Meal Guide (Slightly less strict than Countdown to Competition)
7 Incredible 30 minute workouts that will help you lean out and pack on muscle
Portion Control Containers, so you can learn to eat the right way once and for all
30 day supply of Shakeology so you get the perfect amount of nutrients every single day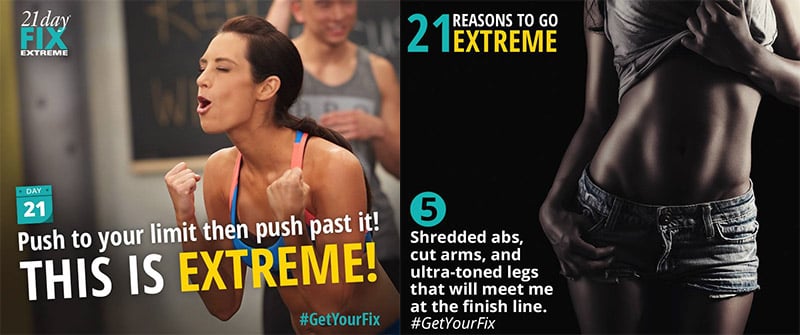 The 21 Day Fix Extreme workouts are incredible. I had a chance to try a few of them, and I have to tell you. This is seriously EXTREME! All the workouts are done with weights, so make sure you have a good set of 5 pound, 10 pound, and 15 pound dumbbells. The kit also comes with resistance bands, so if you would rather use that, you can! The workouts that are included are:
Dirty 30 Fix Extreme
Upper Fix Extreme
Lower Fix Extreme
Pilates Fix Extreme
Yoga Fix Extreme
Cardio Fix Extreme
Plyo Fix Extreme
Can I see 21 Day Fix Extreme?
Here is a quick video of 21 Day Fix Extreme, so you can know exactly what to expect when you join my extreme challenge group.