Interested in becoming a Beachbody Coach in Toronto? My name is Miguel Carrasco, I am the first Canadian Diamond Beachbody Coach, and one of the founding Canadian Beachbody Coaches in Canada.
For the first time you can become a Beachbody coach in Toronto! What does this mean to you? Only a handful of people even know this is available and you are now a part of those select few that even know this opportunity is available.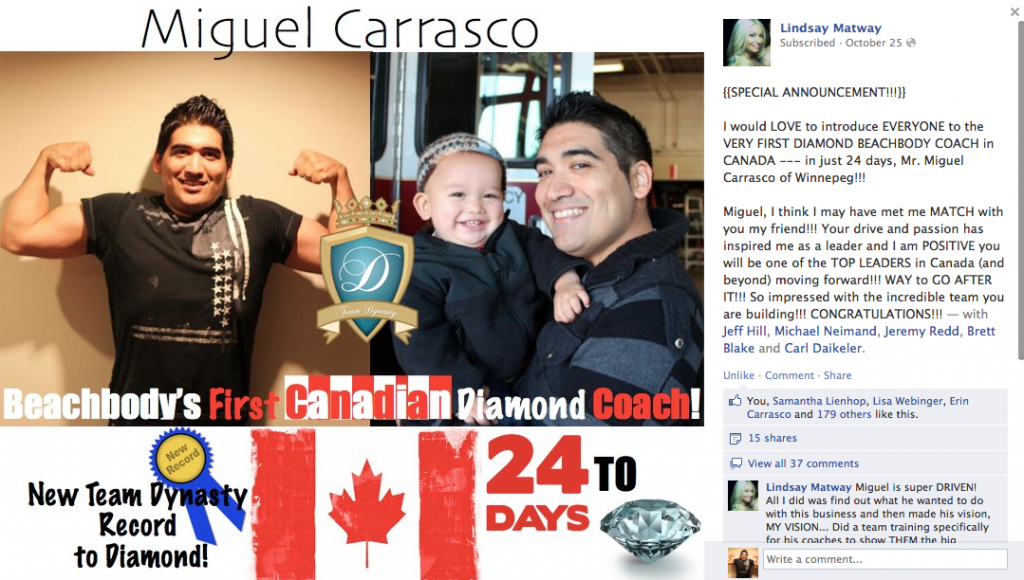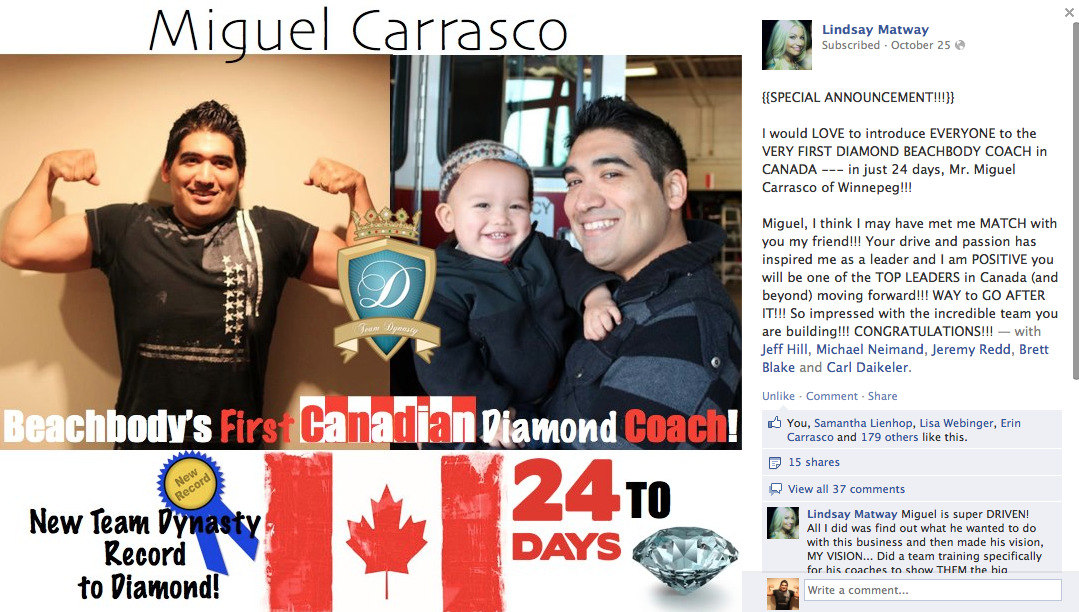 Change Lives of Canadians
If you want to help change the lives of other Canadians, improve the lives of friends and family and make an incredibly healthy living doing what you love to do, then you need to join Beachbody and become a Beachbody Coach in Toronto.
Becoming a Canadian Team Beachbody Coach in Toronto offers unlimited ways to help people get fit.  Maybe you already own a Beachbody product? If so, you know they produce incredible results. And guess what, when you become a coach, Beachbody will send you customers that buy Beachbody products on TV starting in January. That's right, free commissions, as long as you reach Emerald rank before January 1st. Free customers and free money. However it is hard to get Emerald! But I have a system that will make you an Emerald Beachbody coach in 30 days.
Become A Beachbody Coach In Toronto
This is your chance to get involved before everyone else. So many other companies have made promises they can't keep to people like free cars, magic shakes, and more. Beachbody is the only company that is the REAL DEAL. Incredible workouts, awesome support, and incredible revenue for coaches.
Beachbody is an incredibly well known brand name! When you tell people you are a Beachbody Coach, people will listen and want to join your team, buy products from you at incredible discounts, and you WILL MAKE MONEY.
The Secret I Want To Share
In less than 24 days, I was able to not only become the first Canadian Beachbody coach to reach Diamond status, but I was also able to create 5 emerald coaches in that same time. No other team in Canada has ever done that. How did we do it? The secret is I have been a digital marketing and technology expert for 15 years. Many of you today are personal trainers, people interested in starting your own business, and customers of Beachbody that would love to change peoples lives by making money. The issue is you aren't marketing experts, social media consultants, or graphic designers.
When you join our team, you will get unlimited access to our team, our branding, our social media experts, and our marketing funnel that will put you on track to become a Diamond Beachbody coach in less than 90 days. No other team can provide this to you. It would cost a fortune. My normal billing rate is $400 an hour and I am providing my services to my team FOR FREE. This is why we are so successful.
Let Me Make You An Incredible Beachbody Coach
My dream is to grow the largest, most successful, kindest, and most fun Beachbody Coaching Team in Canada. By doing so we will be able to touch thousands of lives, by helping millions lose weight, and help you become financially independent, debt free, and more. I want you to be a part of the team.
Fill out the form below so I can contact you directly about becoming a Beachbody Coach in Toronto, and let's get started right away!