Guess what? I just finished PiYo and lost 24 pounds in 60 days! I was actually selected by Beachbody to be in the PiYo Coach Test Group! If you are looking to find the most information available online, get the bonuses you wont' find anywhere else including my free online support, as well as the best prices for PiYo, this is the review you want to read.  I was part of the PiYo Test group, and was actually featured in the PiYo infomercial!
PiYo is the latest workout program from Beachbody celebrity trainer Chalene Johnson. I had the opportunity to be one of the PiYo workout test coaches, and had amazing results with the workout program, so I wanted to write a PiYo Review so you could understand exactly what your getting yourself into. So what comes with PiYo? How many workouts are included? What can you expect? Today we are going to dive deep into exactly what PiYo is all about.
Be First To Get PiYo and Free Bonuses
PiYo IS NOW AVAILABLE! It will sell out quickly. If you want to be the first get a copy and join our exclusive Beachbody PiYo Support Group, order today and I'll help you get in the best shape of your life! When you order through here, I will be your FREE Beachbody Coach and help you get the best results with PiYo.


or
Once you order PiYo, come back to this page and add me on Facebook and send me a message letting me know you ordered PiYo! Why? So I can help you get the best results, and add you to our free PiYo Challenge Group starting next week!
What is PiYo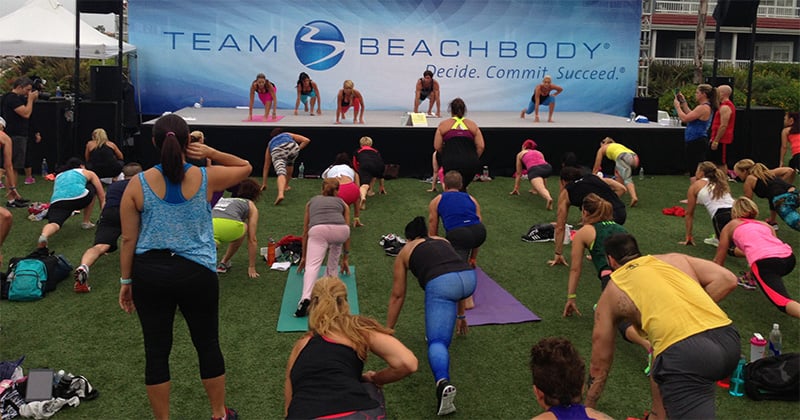 That's me taking the picture of Chalene Johnson doing her first live PiYo workout with the top Beachbody Coaches at Leadership Retreat in California. PiYo gets it's name from the combination of what it is, Pilates and Yoga. PiYo is a hybrid of the two. The cool thing about PiYo is that it is constant, and features the best moves from Pilates and Yoga to really get your heart going. Because of the fast paced combination of Pilates and Yogo, PiYo can help you burn fat quickly while at the same time increasing muscle tone, increasing strength, and dropping the pant sizes fast. I've heard PiYo described as a hyper version of Yoga, and it would totally be right. Most of the workouts you likely do all focus on form, getting the heart rate up, and power moves. PiYo focuses instead on your breathing, your balance, relaxation and mediation, as well as your form and strength. This will allow you to train injury free and take your level of fitness to a whole new level. The other thing is every time I've gone to Yoga, the music has been pretty dreadful. Not exactly my style. With PiYo, Chalene Johnson has mixed the most incredible music tracks I have ever come across in a workout program. When I heard the music for PiYo, I was an instant fan and had to write a review of the PiYo workout.
What Is Included In PiYo?
The PiYo Workout Review has to include what comes with the workout program! So let's dive right in. PiYo comes with 8 different workouts that you can do right at home. They are 25 to 45 minutes long, and vary in the target areas they hit. PiYo will be available to Beachbody Coaches exclusively at Coach Summit in Las Vegas for $59.85. It will also include one bonus workout DVD when you purchase PiYo from a Beachbody Coach.
What Workouts Come With PiYo?
PiYo comes with 8 workouts, plus one bonus workout when you order PiYo through a Beachbody Coach like myself. Let me walk you through each workout so you understand what to expect from PiYo.
PiYo Align: The Fundamentals
This is by far one of the easiest to follow workout systems because it starts with The Fundamentals. PiYo Align will show you all the moves you need to do throughout your PiYo workout journey, and show you how to execute the moves flawlessly. You will learn all the principles behind PiYo, Yoga, and Pilates, so you understand why each move is so important, and what you need to focus on as you go through the workouts. You will learn all the PiYo terminology, as well as the modifications you may need to do. The best part? Align is also a great workout!
PiYo Drench
PiYo Drench is a 45 minute workout that leaves you completely drenched and kicks your metabolism into high gear. It is divided into multiple sections so you truly get the most out of your workout. First you will go through a gradual warm-up and stretch, follower by a PiYo Power section that will get your heart racing, and then focus on your lower body to improve your balance, flexibility, and muscle endurance.
PiYo Buns
PiYo Buns is a bonus workout that is only included when you buy the workout from a Beachbody Coach like me! It is only 25 minutes in length, so you can definitely get through this workout.It is a high calorie burning workout that focuses specifically on burning fat and toning your ass. This PiYo workout will certainly get your bum in the best looking shape of it's life. PiYo Buns will lift and redefine your entire backside.
PiYo Strength Intervals
If you are looking for a non-stop interval training workout, you found it with PiYo Strength Intervals. This 25 minute workout uses no weights and no equipment to get you strong with no bulk. You will alternate between intervals of body weight resistance exercises, and heart-rate elevating movements designed for athletes. This workout will give you that long, lean muscle look everyone is looking for.
PiYo Sculpt
Want to gain muscular endurance? This 30 minute workout uses various tempos to keep your muscles under tension for long periods of time in order to use your body weight effectively to totally transform you body. Sculpt will make you a true athlete.
PiYo Define: Lower Body
PiYo Define: Lower Body will tone and shape your hamstrings, quads, gluts and calves gently, to help you get lean and sleek legs. If you want sleek and lean legs, this is the workout for you!
PiYo Define: Upper Body
Who said you couldn't get an incredible physic with PiYo? PiYo Define Upper Body will give you the chest you've always wanted, the shoulders people stare at, and the arms that look strong. This upper body workout is 35 minutes long, and will leave you sore and knowing that you pushed yourself to the limit.
PiYo Core
Your core is the most important part of your body. PiYo Core focus on your bodies powerhouse from every angle. You don't need to hurt you back to build strong, long, sexy abs. PiYo Core will not only make your abs look incredible, but will also help you gain incredible back strength. In just 30 minutes, your core will be ready for war.
PiYo Sweat
This is one of my favorite workouts. PiYo Sweat will have you completely soaked from head to toe in sweat. In this 35 minutes workout, Chalene Johnson combines dynamic conditioning, body weight resistance training, yoga flows, powerful athletic movements, and core work all into one power packed 35 minutes workout. You will never again think Yoga is for the weak after completing PiYo Sweat.
How Can I Get The PiYo Challenge Pack?
The PiYo Workout Beachbody Challenge Pack will go on sale for $140 (yes, that is not a misprint and include Shakeology) and include: 8 Workout programs plus one exclusive Team Beachbody Workout, Quick Start Guide, Workout Calendar, Get Lean Eating Plan, Tape Measure, and of course a one month supply of Shakeology. The Challenge Packs will sell out, so make sure you add me on Facebook or fill in the form below if you have more questions. PiYo will also include an incredible modifier in every workout so that even beginners can do a PiYo workout and get great results. Many of the coaches on my team are already PiYo Certified Instructors, so they can help you get the best results from PiYo when it become available.
Who is PiYo For?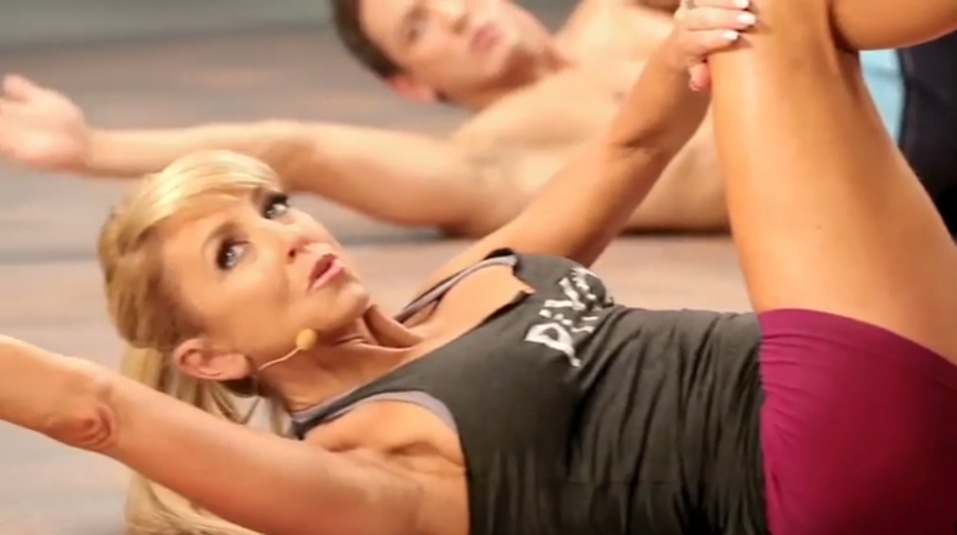 PiYo is really designed for anyone that wants to improve their flexibility, breathing, posture, and strength. No matter who you are, you could be a professional athlete or someone looking to drop 100 pounds, PiYo will get you there. I will say, that because it is a low-impact workout, it is especially good for people that are getting older in age and still want to look amazing, but don't want to risk injury or damaging their joints. But just to be clear, that doesn't mean that a 22 year old in the best shape of his life couldn't try PiYo and be completely exhausted after an intense workout.
What Results Can I Expect from PiYo?
PiYo will give you incredible results. How do I know this? I'm doing PiYo right now. In just two weeks I lost 12 pounds and lost inches from my waist! After 60 days, I lost 22 pounds and lost 16 inches around my stomach and other trouble spots.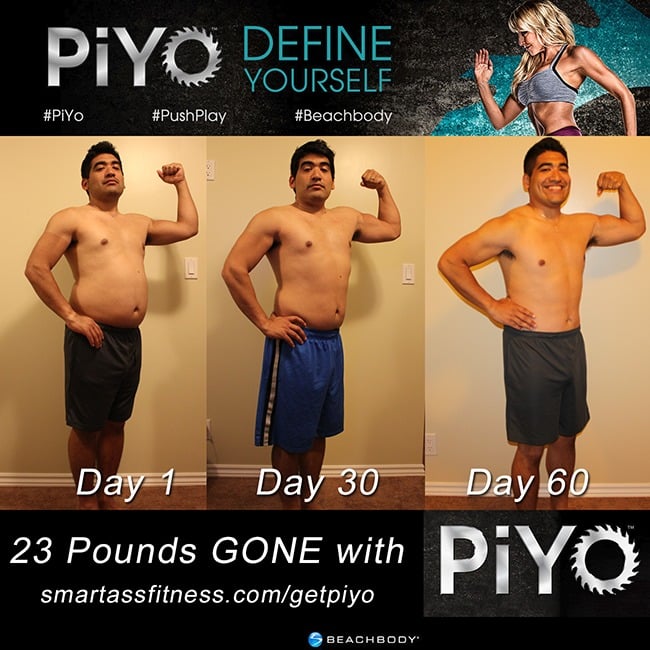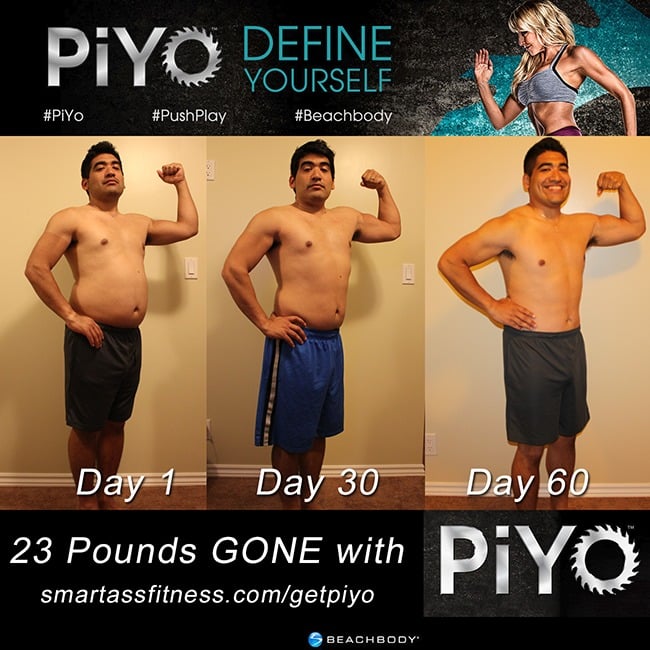 The results were from following the PiYo meal plan and food guide, in combination with all the PiYo workouts. If you've always wanted to get a lean, muscular look, PiYo is for you!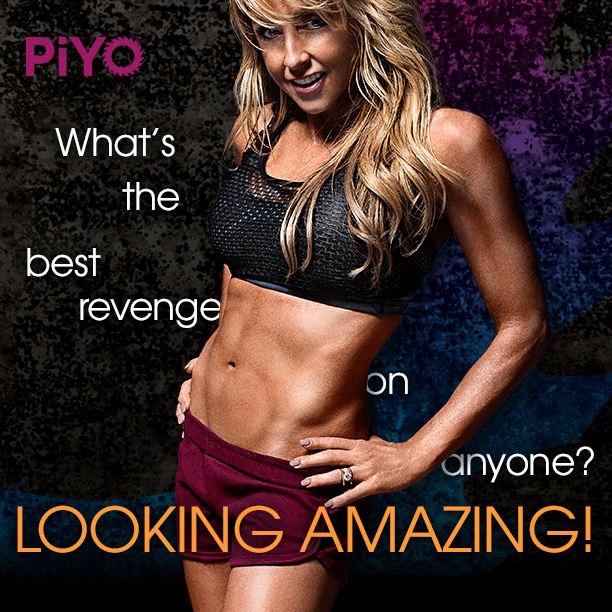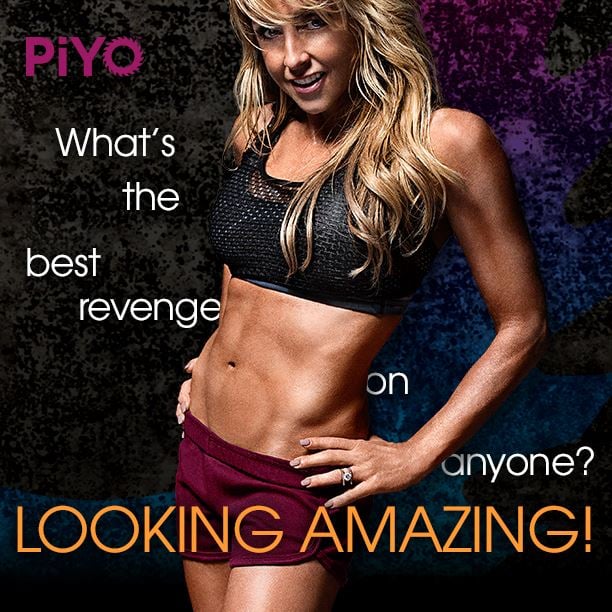 The PiYo Schedule
Looking for the PiYo workout schedule? PiYo is a 60 day workout program that combines 8 different workouts to target all the areas of your body. The official PiYo schedule is below so you can decide if it is something you want to try. Personally, I believe this is one of the best workout schedules ever created. You are allowed to pick any day off! In the generic recommened beachbody workout plan, Friday's are the rest day with PiYo.
The first month PiYo workout schedule is listed below. Things get started right with PiYo Align. Align will make sure you now exactly how to do all the movements that are utalized throughout the PiYo workout program. You can also download the PiYo Workout Schedule PDF here.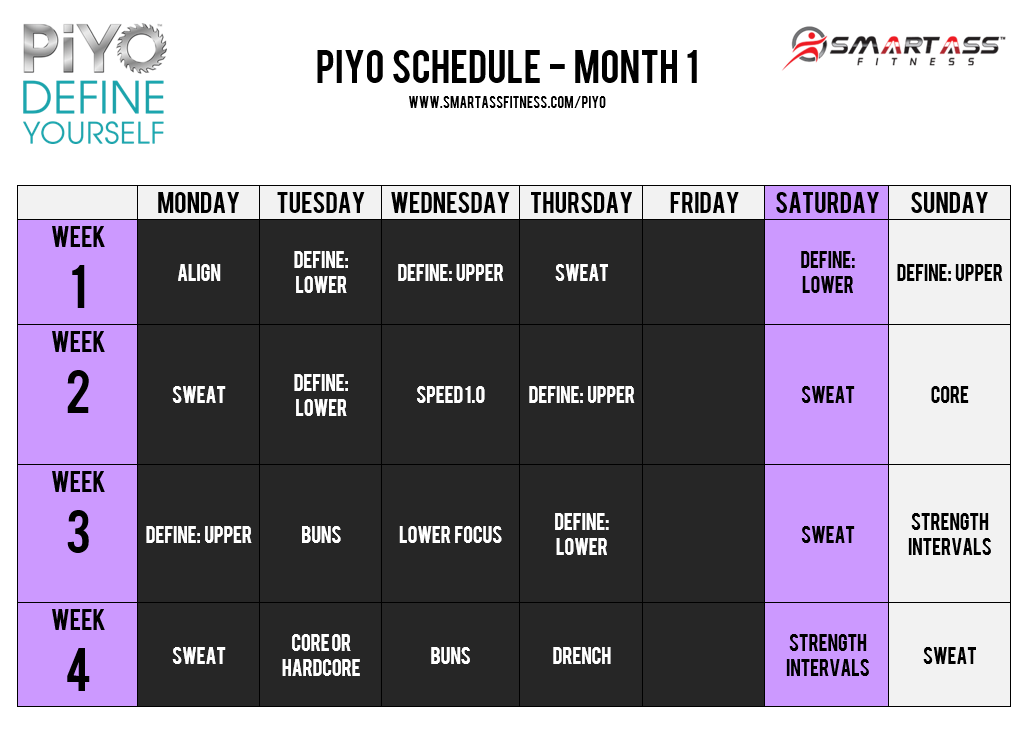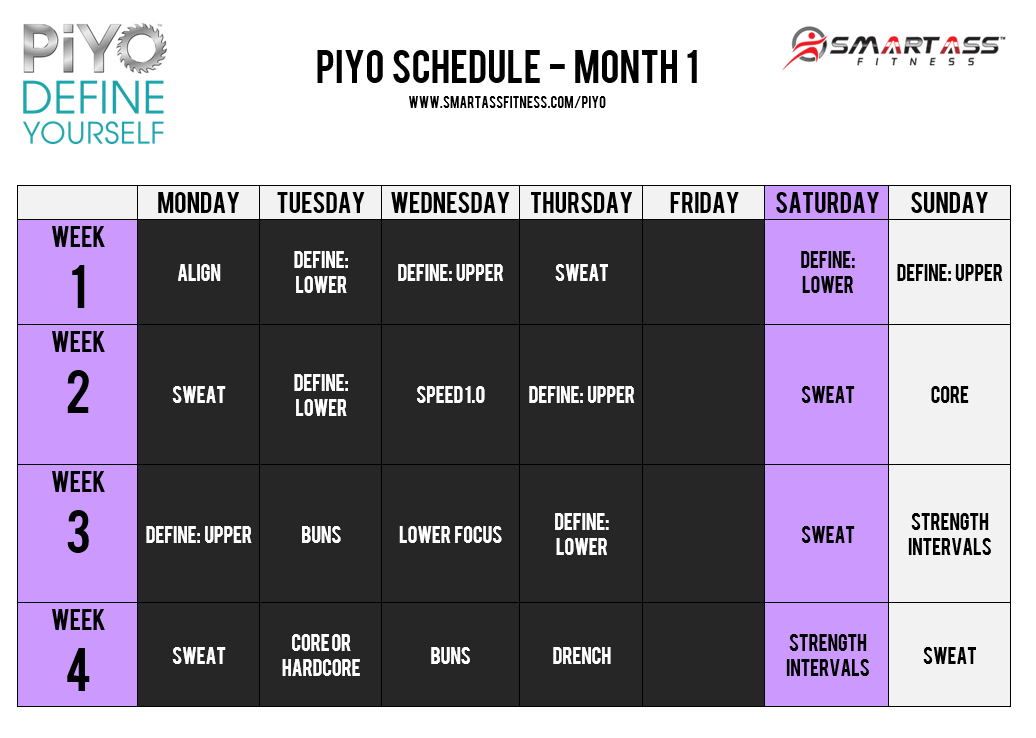 In PiYo month two,  things kick up a notch, as you start adding in PiYo Sculpt, which really helps you define your muscles. Download the PiYo Schedule for month two here.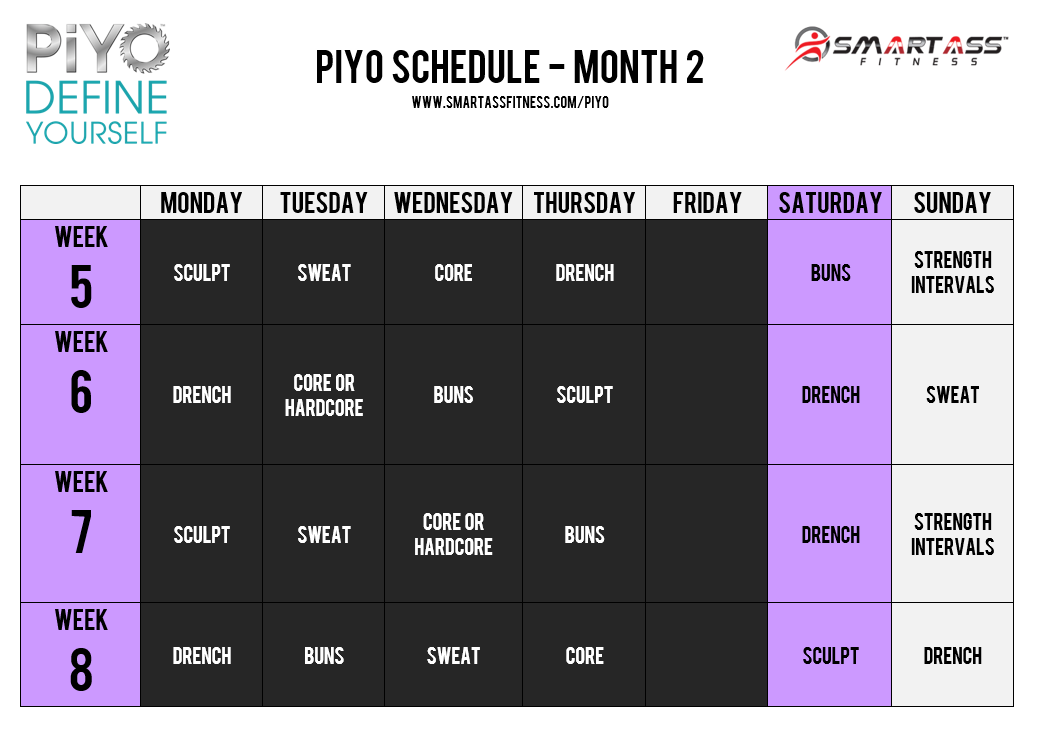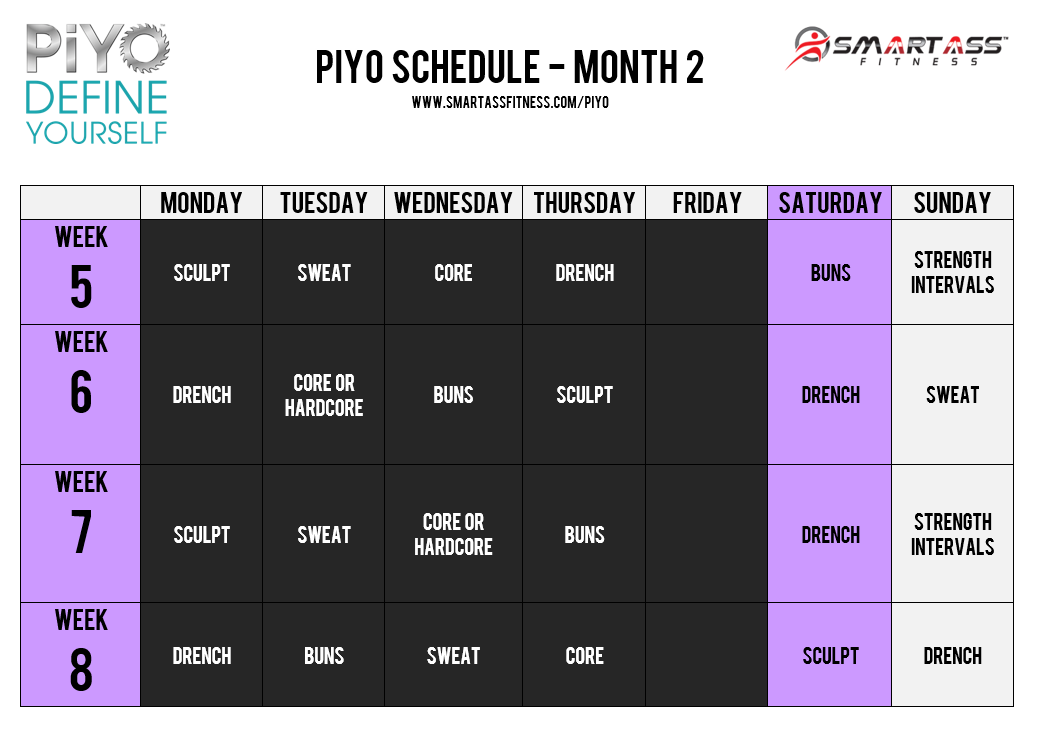 Watch The PiYo Workout Video
Want to see PiYo in action? Here is the PiYo Workout video that Beachbody released to announce PiYo was coming. Check it out!
When can I get the PiYo Workout
The PiYo Workout is now released! It was released exclusively to Beachbody Coaches and their friends so we can be the first to get a copy! If you would like to order PiYo today, please make sure to do so quickly as supplies are very limited.