Have you been waiting patiently for the 21 Day Fix Challenge Pack? It is now available for order! 21 Day Fix is the brand new workout program created by celebrity trainer Autumn Calabrese. Why is it so popular? Why is everyone so excited to get their hands on this workout? Because it includes a patented 7 container portion control system that teaches people not only what to eat, but also teaches people the right portions to eat throughout the day. And when it comes to weight loss and fitness, portion control is the biggest challenge for most people. You can eat too much of a good thing.
Order 21 Day Fix Challenge Pack Today
If you want to be the first to get a copy of the 21 Day Fix Challenge Pack, you will need to act fast before they sell out at this reduced price. Regular price for everything included in this kit is over $220, but Beachbody has reduced the price of 21 Day Fix to only $160. That is a huge savings over the regular price and includes the 7 container portion control system. You can read the complete 21 Day Fix Review here.
21 Day Fix Challenge Pack – (On Sale for $160)
Includes 7 Workouts, Bonus Dirty 30 Workout DVD, 3 Day Quick Fix, Eating Plan, 30 Day Supply of Shakeology, and 30 Day's Team Beachbody VIP Membership
Order Here: http://bit.ly/21dayfixcp
Includes Free Shipping and Handling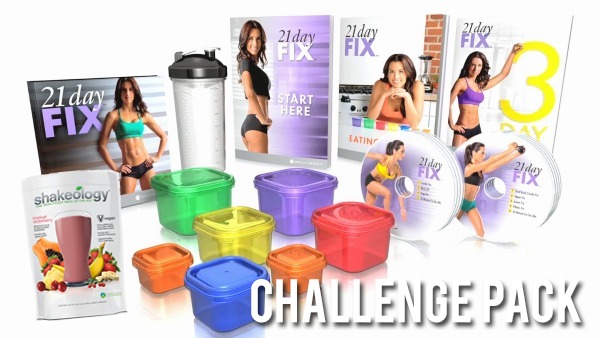 Give Me More Information on 21 Day Fix
I had the pleasure of being one of the first people in the world to try 21 Day Fix at its reveal in September, 2013. As an elite Beachbody Coach, I had the privilege of flying out and working out with Autumn Calabrese when she showed us her workout, and what we had to look forward to. Since then I took the time to create the Ultimate Guide to 21 Day Fix, which should give you all the information you are looking for when it comes to 21 Day Fix. I highly recommend you check out that article for all the details, including how the portion control system works, and what workouts are included in 21 Day Fix. Here is a video of 21 Day Fix if you'd like to learn a little more.