People have been asking me a ton of questions about 21 Day Fix and I can't really keep up! It's crazy. It is true though, 21 Day Fix sold out in less than 48 hours from initial launch. I find it incredibly cool that Beachbody didn't even run a single advertisement on television, and the network of coaches and their customers completely sold out the workout in record time. Why did 21 Day Fix sell out so fast? Read the complete 21 Day Fix Review here.
21 Day Fix Gives You The Tools
21 Day Fix gives people exactly what they are looking for. People are looking for a way to lose weight quickly. Losing up to 15 pounds in 21 days is perfect for most people, and would give them enough encouragement that they could continue on with a new workout. After all, if you can do something for 21 days, you can continue on for a while.
Secondly, 21 Day Fix teaches you how to eat correctly. Most people struggle with this the most. And I don't just mean what to eat. I mean what to eat, and how much of it they eat. 21 Day Fix teaches you how to eat correctly. It teaches you portion control, what to eat in what portions, and when to eat what types of food.
Lastly it comes with 7 incredible workouts that are fun. That's a huge thing! People want to do fun workouts. Who wants to try a boring workout for 30, 60, or even 90 days? Nobody! Autumn Calabrese definitely created one of the most entertaining workout programs I've ever seen. The music, the pace, the motivation, even the colors that were chosen make you excited to push play and workout with the 21 day fix.
How Can I Buy 21 Day Fix?
You can still get a copy of 21 Day Fix when you purchase it as a Beachbody Challenge Pack. This is actually the best deal anyway for the month of February as Beachbody launched 21 Day Fix with an exclusive sale. In February, 2014 21 Day Fix is only $140. That's a $90 savings right there you can use towards a new pair of cross trainers. The other cool thing about the Challenge Pack, is it includes Shakeology – Your Daily Dose of Dense Nutrition.
21 Day Fix  Challenge Pack – (On Sale for $140 February Only)
Includes 7 Workouts, Bonus Dirty 30 Workout DVD, 3 Day Quick Fix, Eating Plan, 30 Day Supply of Shakeology, and 30 Day's Team Beachbody VIP Membership
Order Here: http://bit.ly/21dayfixcp
Includes Free Shipping and Handling
Of course if you want to learn more about 21 Day Fix, I wrote the 21 Day Fix Review for you to learn more about all aspects of the 21 Day Fix workout.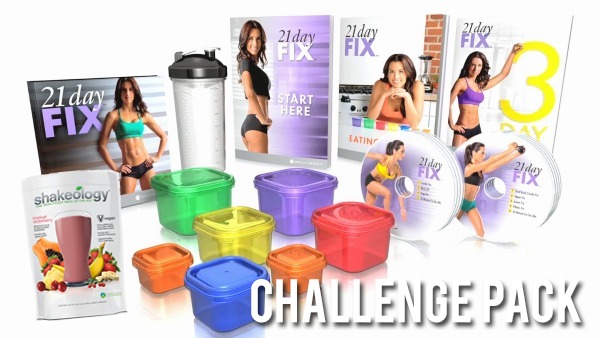 When Will The 21 Day Fix Base Kit be Available for Order?
You can actually order the 21 Day Fix Base Kit now for $59.85, however it will not ship until late March! In other words, it's sold out but you can go on a waiting list to get it shipped to you. And to be honest with you, in my opinion the Challenge Pack is a way better deal.